Jupeng Bio, Lu'An Group and Shanghai Advanced Research Institute (SARI) signed a three-party R&D collaboration agreement in Taiyuan, Shanxi on April 9, 2018. Attendees to the signing ceremony included: Jupeng Bio Board Chairman Liu Shuguang and Chief Operating Officer Bruce Walker; Lu'An Group Board Chairman & Party Secretary Li Jinping, Deputy Board Chairman & Deputy Party Secretary Wang Zhiqing, Deputy Board Chairman & standing party committee member Wang Guangbiao, Deputy General Manager Xiao Yaning and Deputy Group General Manager Liu Junyi; SARI Party Secretary of Discipline Inspection Committee Tang Zeng, Director of SARI Key Lab of Low-Carbon Conversion Science and Engineering Sun Yuhan and program researcher Zhang Jun.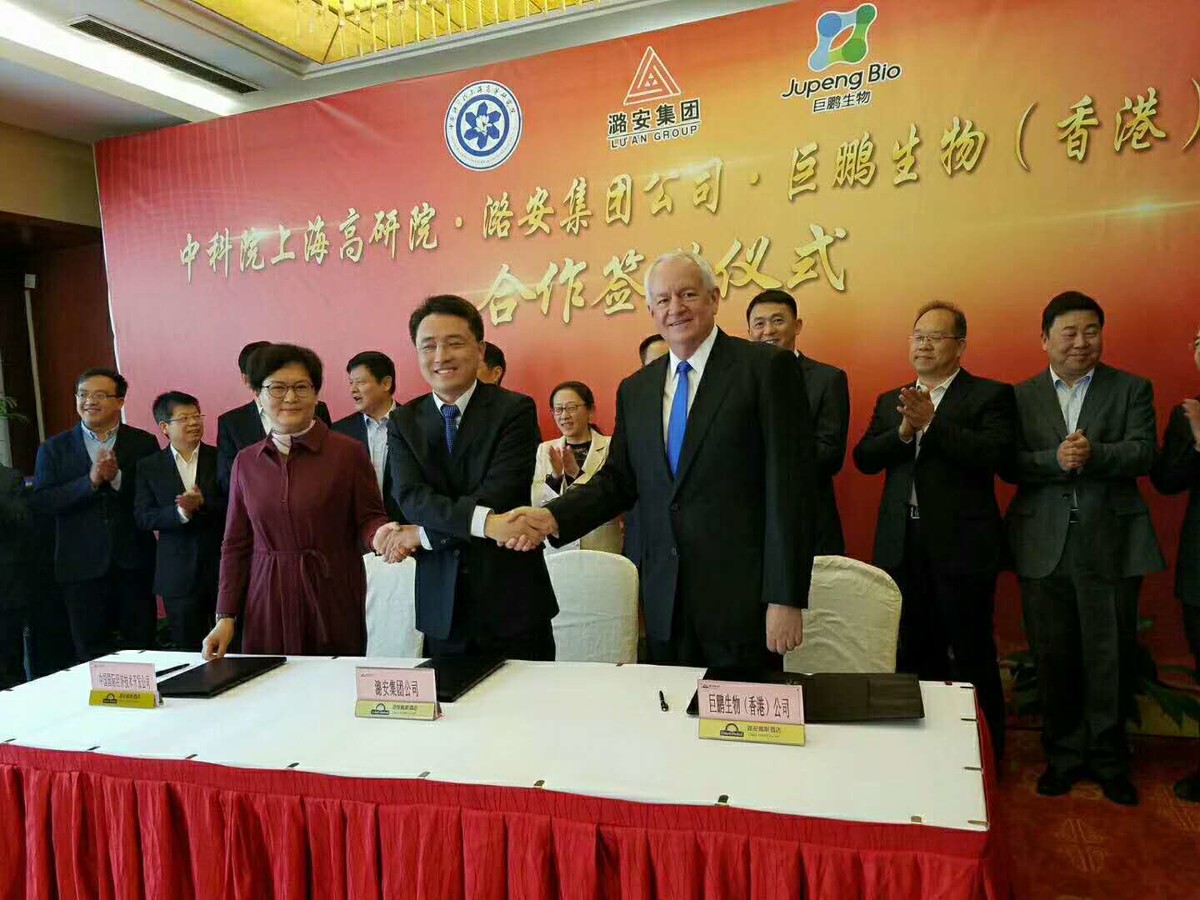 In addition to the joint agreement signed by the three parties, Jupeng Bio and Lu'An Group also signed a strategic cooperation agreement to construct a 20kt/a Demonstration Plant, as phase I of a 200 kt/a bio-fermentation fuel ethanol project in Tunliu county, Shanxi province. Civil construction on the Demonstration Plant will start in June, with mechanical completion in December and normal operation achieved in 1Q 2019. The Demonstration Plant is expected to be an example of a successful win-win cooperation, presenting remarkable economic, environmental and social benefits.
The Demonstration Plant will integrate CO2 reduction technology, including industrial off-gas recycling, with the Jupeng Bio patented syngas bio-fermentation technology. The SARI CO2-CH4 reforming technology will be used to convert CO2 and CH4 to a mixed gas stream that includes CO and H2. This syngas is a feedstock for a Jupeng Bio bio-fermentation plant, which can use a microorganism to continuously convert the syngas to fuel ethanol with a high conversion rate and selectivity within minutes.
The syngas bio-fermentation Demonstration Plant is the first phase of a 200 kt/a bioethanol project for Lu'An. After the 200 kt/a plant is constructed and on stream, Lu'An Group will be the first company to commercialize clean fuel ethanol technology via a biological process in Shanxi province. It will be an important step for Lu'An to achieve its goal of "transferring advantage, converting momentum, restructuring business for all-round development as international, competitive clean energy brand company".
Jupeng Bio is a BioEnergy company working to commercialize and license a highly innovative thermo-chemical and bio-chemical technology for the production of advanced biofuels and renewable power from a wide range of low-cost carbon materials. Central to the Jupeng Bio technology platform is the highly selective, highly efficient, proprietary biochemical conversion of synthesis gas to ethanol. This innovative technology provides an alternative to waste disposal for communities around the globe. Jupeng Bio's technology solutions improve the value and environmental footprint of industry by mitigating carbon emissions without adversely impacting food or land security. Jupeng Bio offers technology solutions for various industrial applications. For more information, visit www.jupengbio.com
Shanxi Lu'An Group, as one of the top 5 coal group companies in Shanxi province, is a modern new energy chemical group company dedicated to coal mining, coal-based fine chemical product, new energy development and biological health industry investment. Included in the Fortune 500 List and Top 10 National Coal Company list in China, Lu'An group is also an important national advanced coal-producing capacity clustering base, quality power coal supply base and PCI coal producing base.
Shanghai Advanced Research Institute (SARI), jointly established by the Chinese Academy of Sciences (CAS) and Shanghai Municipal Government, focuses on comprehensive, interdisciplinary research and technology incubation, with main research areas in Space Technology, Frontier Studies and Advanced Manufacturing, Information Technology, Energy & Environment and Health Science & Technology. SARI is devoted to original, innovative research which provides core technology and integrated technology solutions for strategic emerging industries and explores development modes integrating science, economy, education and finance with culture.